The following is an excerpt from the  newly released book, COMBAT JUDO TO KAJUKENBO: The Evolution of Martial Arts Systems in the Military 1943-1970 by Barron Shepherd
Combat Judo and Kajukenbo Karate would eventually come together at Bergstrom Air Force Base in Austin Texas in the 1960's when GM Tony Lasit was reassigned from Cheyenne, Wyoming to Bergstrom AFB in 1964. The Bergstrom Judo Club Chief Instructor, MSgt. Robbie Robinson from the Armed Forces Judo Association later known as the United States Judo Association did demonstrations with MSgt. Tony Lasit's Bergstrom Karate Club.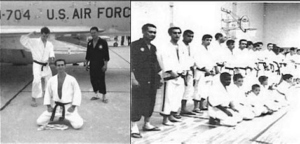 During this time Bergstrom AFB's Judo and Kajukenbo club had 150 members and was the largest judo and Law Enforcement Officer's club in the US armed forces. The Bergstrom Judo and Kajukenbo club supported the Austin Vice and Narcotics Branch of the city's police department.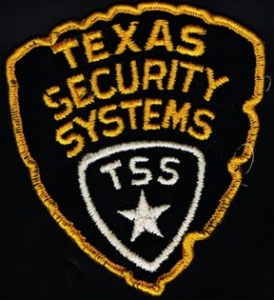 In 1964, MSgt Lasit was promoted to 4th Degree Black Belt by Adrian D. Emperado, Founder of the Kajukenbo Self-Defense Institute. MSgt Lasit opened, established and conducted another Self-Defense Institution, under the banner of "Kenpo-Karate" sponsored by (Private Enterprise) Texas Security Systems, Inc (picture left is property of Tony Lasit United States Kajukenbo Association used with permission).
In 1964 black belt Combat Judo instructor H.G. Robinson would receive his black belt in Kajukenbo from MSgt. Tony Lasit. Both MSgt. Lasit and MSgt. Robinson would go on to teach other programs when shipped out in 1968 to Southeast Asia. Sensei Robinson recalls that his and Lasit's students maintained classes at Bergstrom until those were qualified to teach no longer remained stationed there.
MSgt Robinson was stationed at Takhli RTAFB, Thailand in 1968 and was later joined by MSgt Richard Peralta. The two became fast friends and co-joined the systems Judo, Juitjitsu, Kajukenbo and Muay Thai. Peralta and Robinson ran classes 7 days a week with over 200 students.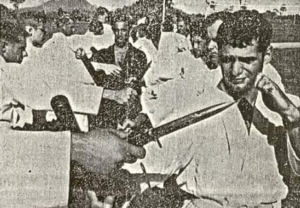 MSgt Tony Lasit left Bergstrom AFB and was stationed at Ubon, Thailand- Ubonratchatani Air Force Base in 1968 where he opened the USAF Kajukenbo Karate Self-Defense Institute. MSgt Lasit would leave the school to his black belt Precha Mahachanavong. Precha renamed the system to LOTUS Self defense system and they continue to this day.
In 1971 MSgt. Lasit was reassigned to Wurthsmith Air Force Base and started another Kajukenbo self defense program. In 1974 MSgt Lasit was sent to Davis Monthan Air Force Base in Tuscan, Arizona and established, organized and conducted another Kajukenbo mixed martial arts training program there.
MSgt. Lasit would be reassigned to Japan and would finish out his USAF career at Hickham Air Force Base in Honolulu Hawaii where he retired from military service. MSgt H.G. Robby Robinson retired from active military duty with the USAF in 1976 and would eventually end up in Pensacola, Florida in 2005 where he lives today. MSgt. Tony Lasit, MSgt. Robbie Robinson, and Jeff Beish remained lifelong friends.