COMBAT JUDO was originally developed to address the needs of military personnel, facing new hand-to-hand combat challenges, as a way to ensure a streamlined, tested, and effective method of self-defense. Combat judo's roots stem from WWI. It is a combination of judo and boxing. This method was basically recast years later as "Combat Judo". This renaming so to speak was done to distinguish it from any of the classical/traditional martial art systems.
Captain Allen Corstorphin Smith U.S. Army
What would later be referred to as Combat Judo began in WWI with CPT. Allen Corstorphin Smith of the United States Army introduction of judo at Ft Benning Ga. Smith trained at the Kodokan in Japan and earned a judo black belt from the Kodokan. Cpt. Smith was the hand to hand combat instructor at the Infantry school at ft, Benning Georgia. Smith's combatives program was a combination of boxing and judo. (See video below) Though it was brought out late into WWI Smith's new method proved to be extremely effective in trench warfare.
SSG ROBERT CARLIN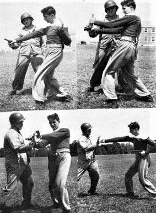 SSG. Robert Carlin had been an amateur boxer who had boxed in the Golden Gloves, a wrestler and a Judoka. Carlin was honorably discharged from the United States Army when he enlisted in the United States Marine Corps. It was there that he received his hand to hand combat training under Colonel Anthony Drexel Biddle. It is said that Carlin also excelled at Hand to Hand combat in Ranger training (Army) and commando training (British).
Carlin would go on and teach Judo in the marines. Later he was the instructor of judo instructors for Captain Leland Hanley, officer in charge at Cherry Point, N.C. Combat Conditioning. Carlin instructed the bayonet and physical instructors for Captain Armitage at Guadalcanal and taught H2h to the 29th Marines under Colonel Victor F. Bleasdale. In his career as an instructor Carlin trained thousands of Marines.
During his time in the Marine Corps Carlin started writing and completed his book Combat Judo. Carlin took two years to complete his book that was written for both military and civilian defense. Carlin self-published Combat Judo in 1945.
In Carlin's writings he states that combat Judo is a more advanced method of fighting. He even goes further into the details of its training by likening it to the training in boxing. As an example, even novice boxers put in hours and hours and round after round in training just the fundamentals alone. This comparison makes perfect sense seeing where both Carlin, a golden gloves boxer and judoka and what would become known as Combat Judo itself essentially came from.
The Alamo Scouts
By the start of WWII this fighting method had become wide spread through the branches of the US military. "Combat Judo" became the name of this system utilized by the U. S. military primarily during this time. It was taught to specialized units for use in potential close quarter combat situations. A specialized reconnaissance unit known as the Alamo Scouts (U.S. 6th Army Special Reconnaissance Unit) trained extensively in Combat judo. The alamo Scouts often operated deep behind enemy lines in small numbers. Their purpose was to conduct reconnaissance and raider work in the Southwest Pacific Theater in WWII. The combat Judo training allowed them to function effectively and efficiently and silently in extreme close quarter situations behind enemy lines.
If you visit the Alamo Scout Historical Foundation website you will find a roster of the Alamo Scouts and the men who trained them. http://www.alamoscouts.org/the-men/full-roster/  Two names stick out on the roster, both of the men were listed specifically as the unit's JUDO INSTRUCTORS.
Moyer, Carl F. / 2LT / 1st / GRADUATE / Retained as Judo Instructor
Mrozinski, Stephen J. / 1SG / Staff-Judo Instructor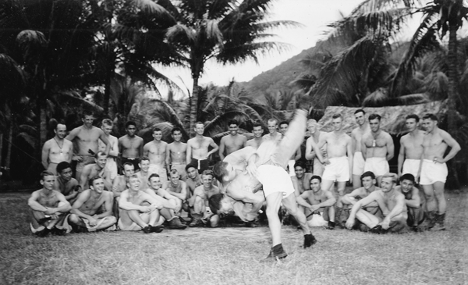 1SG Stephen J. Mrozinski, pictured above demonstrating the shoulder throw to the First class of Alamo Scouts. (Picture from private collection).
© COPYRIGHT – ALL RIGHTS RESERVED. This site is protected and monitored by DMCA.COM – ANY UNAUTHORIZED Reproduction, Duplication, Distribution of any kind is STRICTLY PROHIBITED. All original content is created by the website owner, Barron Shepherd, including but not limited to text, design, code, images, photographs and videos are considered to be the Intellectual Property of the website owner, Barron Shepherd, whether copyrighted or not, and are protected by DMCA Protection Services using the Digital Millennium Copyright Act Title 17 Chapter 512 (c)(3). Direct linking, reproduction or re-publication of this content is prohibited without permission. Under 17 U.S.C section 101 et seq. those who violate the DMCA could be liable for statutory damages as high as 150,000.00 as set forth in section 504(c)(2) therein.